Longines 13ZN: A Holy Grail
In the world of watches, there are holy grails. These are considered the best and most desirable in their class. Just like medieval knights in Arthurian legends pursued a quest, so do watch collectors go in search of particular examples to put in their collections. One of these watches is the Longines 13ZN caliber.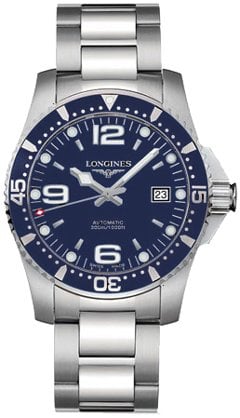 Nicolas Rieussec may have invented the chronograph back in 1821, which I told you about here, and Breitling upgraded the monopusher configuration to an independent pusher in 1934 and a two button function in 1937, but it was Longines that filed the first patent for the flyback chronograph in 1936. Patek Philippe makes a darn good one. So do Chopard and Richard Mille, but should it be worn?. But yes, Longines got there first and the 13ZN remains one of the most beautiful chronographs ever made.
Longines has long been associated with flight and the flyback is a complication developed for pilots. They timed Lindbergh's record setting flight from New York to Paris in 1929 and  then in 1931 made the Hour Angle I showed you here to Lindbergh's specifications, a watch still in production in a nice looking re-edition with an enamel dial. If only they had upgraded the movement from an ETA and left it a handwind instead placing in an automatic.
In the middle of the last century, Longines were in their heyday, a premier company at the top of their game. Known for technical innovation, they developed in their Saint-Imier factory the Calibre 22A, a self-winding movement, and the Calibre 30CH, a chronograph lighter than others in production at the time, which was the last chronograph Longines made.
For a vintage piece, the 13ZN comes in a pretty modern sized 37mm case that looks substantial enough on the wrist and not like your grandmother's watch. If you want to put a piece of history into your collection, track down a Longines with a 13ZN calibre. Only about 300 were made. The most sought after and rare versions come in a waterproof (screwback) case with a black dial. A prime example in excellent condition will cost you around $50k+
You may be interested in the following watch reviews and watch related articles on The Watch Review Site, Like a review of the Richard Mille RM 056 or the review of the Patek Philippe Ref. 5940 Ultra-thin self-winding perpetual calendar
Article provided by Meehna Goldsmith you can also follow Meehna on Twitter @thewatchlady
Original article can be viewed at http://www.watchmatchmaker.com/1_mens_watches/longines-13zn-a-holy-grail.html